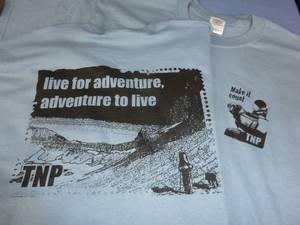 $

9.50 - On Sale
Upon development of this shirt, we just couldn't decide which color worked best. Ultimately, tan won out, but we all thought blue looked so good it had to be a special edition. So, get yours today, and enjoy bragging rights for years to come!
Hot on the heels of "Fear No Evil" comes a shirt a little friendlier in nature. This shirt celebrates the backpacking adventures in values of TNP, encouraging all to "Make it Count". Make every day count, go out and adventure. This shirt was designed to represent TNP in more subdued venues, so you can wear this anywhere without drawing undue attention to yourself.
This shirt is a Tan Polyblend T weighing in around 6.1 oz, 100% cotton for all your casual wear needs. This is the same 100% cotton the other TNP shirts, and has shown to hold up well in both screen printing and long-term usage.
Front graphic shows Nutnfancy overlooking a valley with Allie the Mountain Dog taking in the view. Rear graphic is a one-color rendition of the snowbasin, with Nutn and Allie backpacking along the bottom, with the motto "live for adventure, adventure to live".
Orders will ship USPS first class in a standard T baggy. Multiple shirts will normally ship priority, depending on weight. Email if you want different shipping accommodations, but expect to pay for them.
All sales are final, so be sure to choose carefully!
Shirts, like ALL shirts, will most likely shrink if thrown in the dryer. You can order a larger size or just be a man and throw it outside on a clothesline. That dirt just makes you look cooler anyways.
When ordering, know that you are ordering ONE T-SHIRT. Any AR15's, dogs, magazines, knives, ammunition, etc. in view of product examples is purely coincidental or advertisement and is provided solely for color comparison purposes.
Be aware that extended sizes may come with an extra charge. This is not of our doing, but a result of the manufacturers charges.
FOR ALL INTERNATIONAL ORDERS-
USPS Does not permit us to order labels via first class, therefore we must ship by hand. In order to keep your costs low, we will ship them by hand, but realize that YOU WILL NOT BE ABLE TO TRACK THEM RELIABLY. If you want a reliable tracking system, you must email us and we'll ship it priority. This is a significant increase in price, usually around $25. This option is subject to change.